Description
ғαιяү qυαятz ηεcкℓαcε ωιтн яαιηвσω мσσηsтσηε αη∂ αмεтнүsт αυяα
A whimsical raw fairy quartz necklace with a misty blue rainbow moonstone cabochon. The pendant is topped with an amethyst aura point and little Swarovski crystals are sealed in aged copper around the moonstone, through a process called electroforming. This necklace is part of my Sun, Moon and Stars collection, where each design has a little star with a gemstone in its centre. The pendant measures approximately 3.75" and the chain is 30″ in length".
About the Crystals
Fairy quartz is originates from South Africa and this crystal is said to bring joy and optimism into your life, as well as purifying your energy field. Fairy quartz can also aid with meditation and help to enhance your psychic abilities, through stimulating the higher chakras (third eye and crown chakras).
Rainbow Moonstone is linked to the moon and it emits loving healing feminine energy. Moonstone enhances spiritual awareness, so that you can become more in tune with  synchronicities and your higher self, as well as becoming more present. It is linked to the third eye and crown chakras. Due to its beautiful shine, Romans admired moonstone and believed it came from the moon.
Amethyst is a powerful healer and helps to balance the crown chakra and aids with creativity. Aura crystals are specimens that have been infused with metal vapour in a vacuum chamber, to create beautiful iridescent rainbow effects on the surface.
Please Note
All of the jewellery from By Amillia is lovingly handmade by me using high quality hand picked crystals and materials. Everything I use is sourced ethically  and of course cruelty free.
Shipping is free for anyone in the world! Please note I am not responsible for customs charges, please check your country's rules and fees before purchasing.
You will receive the necklace in the listing photographs.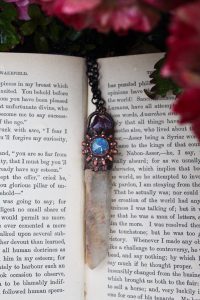 To see more of the necklaces I offer, click here.